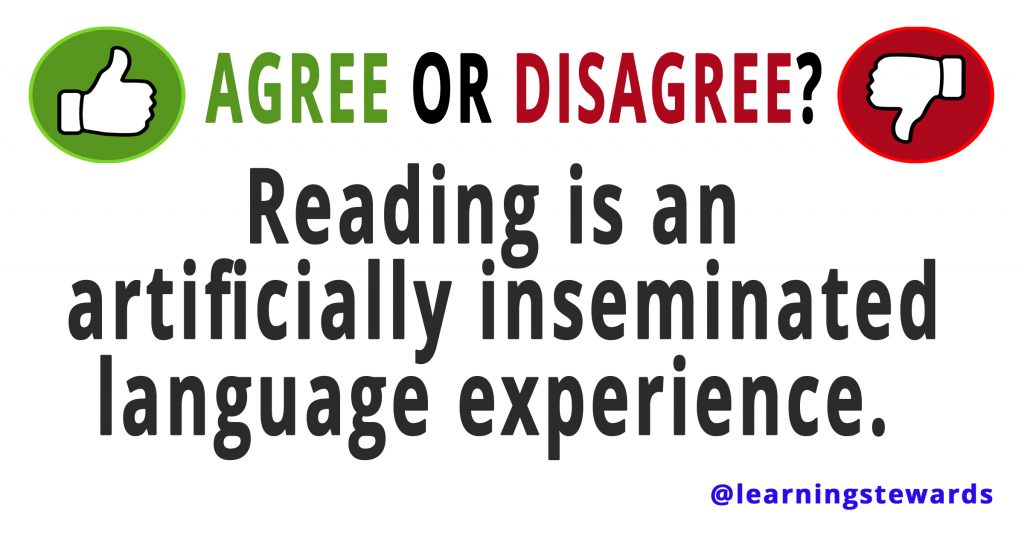 Reading is an artificially inseminated language experience. Artificial in the sense that the words we are speaking-hearing are not naturally occurring nor are they originating – like thinking or self-talk – within our own minds. Inseminated in the sense that the words we are reading are entering our minds artificially. When we read, our "voices" become robotic puppets voicing other people's words according to input – instructions and information – that we are receiving from an archaic information technology we call "alphabetic orthography".
Disagree? Let's go into it – let's dialogue and let others learn through our exchange.
Please share your reactions and/or comments.
Let's begin by acknowledging, whether we agree with the statement or not, that we are people with good intentions. We are not motivated by financial or psychological profit, instead by a deep and genuine intent to be stewards of the learning wellness of children. If we can agree on that, acknowledge that there is a lot at stake, we can respect each other and carefully learn together.
Let's establish some bedrock meanings from which to learn together.
PLEASE SHARE THIS IN YOUR CIRCLES!