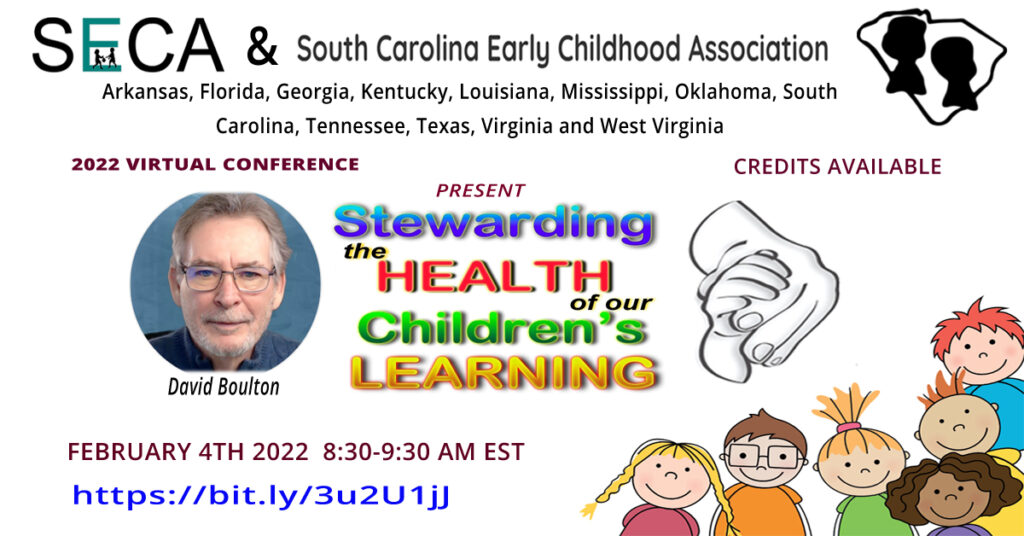 NEW 2-26-22 VIDEO OF PRESENTATION NOW AVAILABLE ON YOUTUBE
The South Carolina Early Childhood Association and The Southern Early Childhood Association are partnering to host a joint (regional and state) VIRTUAL conference on February 3-5, 2022.  The theme of the conference is Big Learning! Bigger Fun! Building a Foundation For the Future!
David Boulton will be presenting "Stewarding the Health of Our Children's Learning" from 8:30 to 9:30 am on February 4th, 2022.   The conference will be issuing continuing education credits.
When it comes to our children's physical health we have a wealth of measures to guide us. When it comes to the health of their learning, the central dynamic that shapes virtually every aspect of how they become adults, we are comparatively oblivious. In this session, David Boulton will explore the critical differences between "healthy" and "unhealthy" learning. He will discuss how we can learn in ways that retard, diminish, or disable our capacities for learning and that can result in "mind-shame" – the most widespread yet least understood disability of them all. Drawing on his work for the "New Science of Learning" public television special and using video clips from his work on the Children of the Code Project, Mr. Boulton will also discuss the critical difference between natural and artificial modes of learning and the role of both in learning to be proficient with reading, writing, and math.
Click here to find out more about the conference and/or to register.