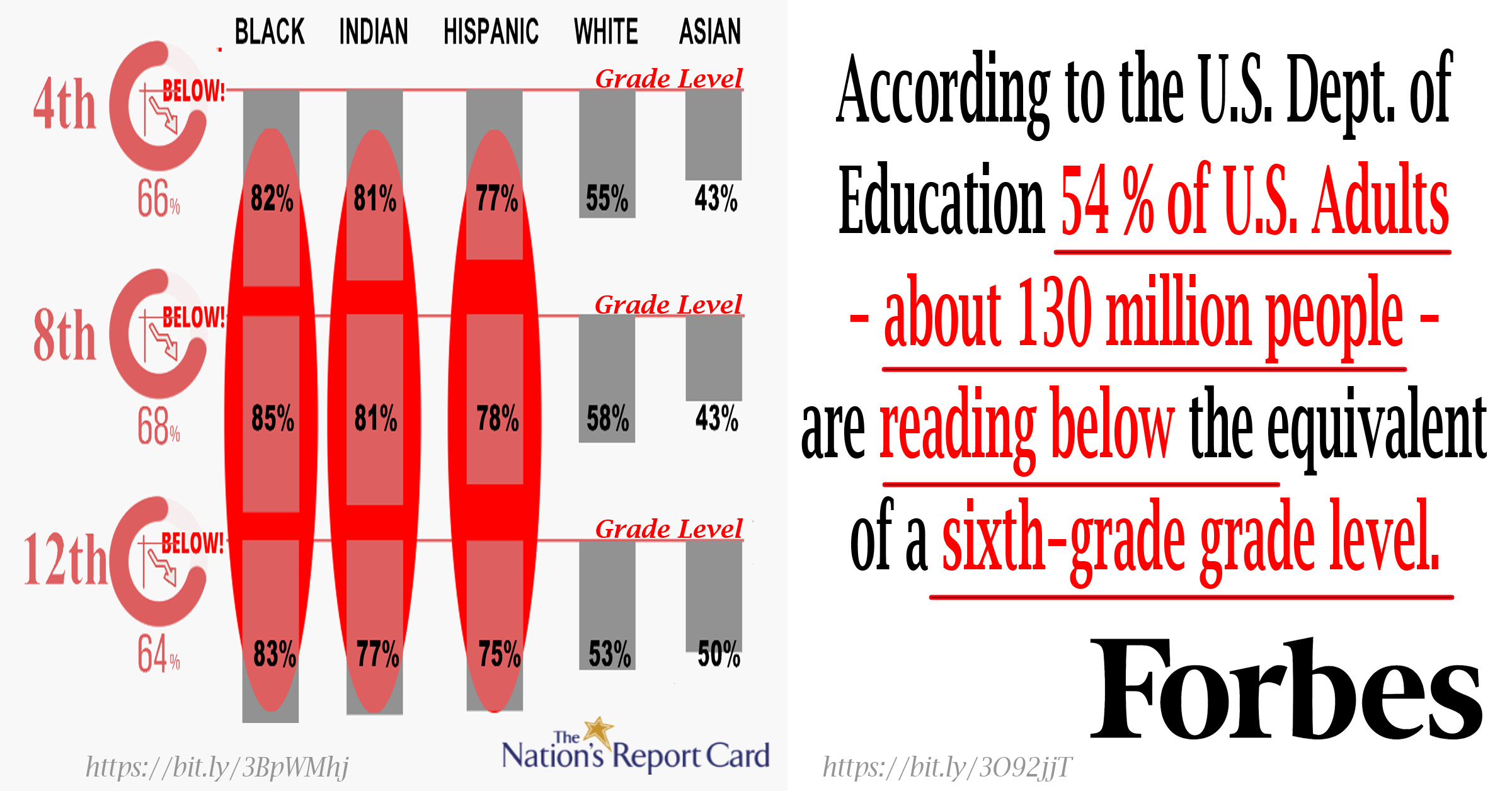 NAEP (K-12) scores aren't perfectly accurate measures of grade-level reading proficiency. NAAL (17-year-old and up) scores aren't perfectly accurate measures of adult literacy. The fact that they are separate assessment systems used to report on very different populations and yet come pretty close to predicting each other suggests they are both in the ballpark and that the ballpark is very close to most Americans*.
Most of the U.S. population is less
than proficient with reading.
Most of the U.S. population is suffering the learning-limiting and learning-disabling effects of reading improficiency. Its effects on their vocabulary, cognitive abilities, and crystallized intelligence, academic success, emotional health, social pathologies, health, economic opportunities, and participation in democracy are profound.  Though the absence of reading proficiency seriously limits their ability to learn from the written materials in their worlds, it is the collateral effects of chronically feeling "not good enough" at reading that most harms people. Chronic reading improficiency is devastating to people's confidence in their ability to learn.  What happens to people who learn to distrust or feel ashamed of their ability to learn? Look around you.
Grade-Level Proficiency
When learners' reading proficiency levels exacerbate the learning challenges they experience in their grades, they are below grade-level proficiency in reading. Reading proficiency means that the brain work of reading is transparent to the mind work of learning from reading. When the brain-work of reading words is not as transparent to learning as hearing them, reading is making learning from those words harder. Whenever a child's reading is not transparent to learning from the materials used in their grade level, they are grade-level improficient with reading.
Grade-level learning is challenging even for those who read well. For kids who aren't able to read well enough to learn well enough from the materials used in their grades, their reading improficiency is making learning their way through their grade's learning challenges harder.
Reading improficiency makes grade-level learning more difficult for (close to)
MOST

U.S. children.

*Most Americans – means within the ballpark of most. We can't be certain. Our data isn't accurate enough. Our models aren't granular enough. We can say from the preponderance of converging assessments that somewhere close to most of the U.S. population is reading below the level of proficiency necessary for reading to be transparent to learning in their grades and lives.